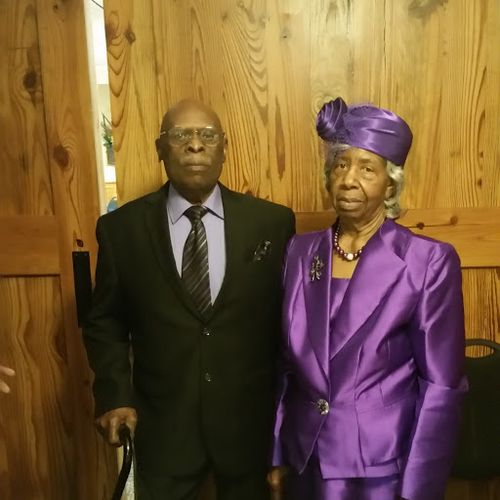 FOUNDERS
The Late Bishop M.H and Mother Benjamin 
Our Founders 
In 1952, a young lady gave her life to the Lord Jesus Christ.  She attended Pentecostal Holiness Church, where the late Bishop Samuel Frazier was the pastor.  In that same year, she began to witness to her friend, M. H.  Benjamin.  At the young age of 17, Bro. Benjamin accepted Jesus Christ into his life, while attending a tent revival in Ellabell, Georgia.  
It was from this witness that not only caused M.H. to commit to God, but commit to Rosella.  From this union came 9 children and many grandchildren and great-grands. They served the Lord for over 65 years and was married for 64 years.    
Bro. Benjamin joined New Jerusalem Pentecostal Church of Christ.  As a new convert, he began to serve earnestly in the church in studying and teaching the word of God.  In 1958, he heard the call of the Lord to preach the Gospel of Jesus Christ.  He heeded to the call of preaching and under his pastor, Bishop Frazier, he began to preach and conduct tent revivals as an evangelist throughout Georgia.   
The Lord saw Elder Benjamin's faithfulness as he conducted tent revivals in Statesboro and Wrightsville, GA.  He would soon elevate him to the office of an Associate Pastor from 1964 to 1971 at the Pentecostal Holiness church in Clyo, GA; as well as pastoring one year at the New Jerusalem church in Savannah.  Soon the Lord would put in Pastor and Mother Benjamin's heart the call to establish a church in Savannah, GA. 
While searching for a location, they held church services in their home, until the Lord would lead them to find a building.  The Lord led Mother Benjamin in the Ogeecheeton area of Savannah Ga to the present.  
Pastor Benjamin obeyed the direction of the Lord and on April 8th, 1973, Elder Benjamin became Senior Pastor and Mother Benjamin was Co-Pastor of Benjamin Temple Holiness church.  Elder Samuel Cash of Cleveland, Ohio was the officiant for the service.  
In 1992, the ministry underwent a name change from Benjamin Temple to Shield of Faith Deliverance Center where the preaching and teaching ministry of Pastor and Co-Pastor Benjamin grew bountifully. Many souls were saved and many lives were changed.  Many labored faithfully to the Lord and in His service.  There were sons and daughters of the gospel who launched out and became pastors in their own assemblies.  It is because of the seeds that were sown in to so many lives that we can give God glory for using this great man and woman of God for over 49 years of ministry.